Page last updated: September 2023.
Home - Guarantees - Adults for Adoption - Mothers - Fathers - About Us - Pictures - Info - Policies - References - Privacy Policy
We are taking deposits on our future litters. For more information, please email or call. Fastest complete response usually comes by email.

SHIPPING is available, but the new puppy owner MUST BE flexible about when the puppy will arrive. Please email for details. NO transportation is available for adult dogs: Must be able to drive to us.

Email us at jkoolfamily@gmail.com or call us at: 616-648-0980. NO texts please.

Please read our Policies Page before calling or emailing about a puppy or adult. Please ask for our required questionnaire to fill out.
AKC Purebred Siberian Husky Puppies/Adults and Siberian/Malamute Puppies/Adults:


Older ones are on the top and the YOUNGER puppies are at the bottom.



- Puppies Home - Available: - AKC Alaskan Malamutes -- AKC Samoyeds

Renfri & Alec's Woolly Siberian Husky/Alaskan Malamute Litter
Renfri
&
Alec
had their litter on 01/18/2023!

Their puppies are ready to go now!
This is a woolly Siberian Husky/Malamute
litter. Please read our
policy page
before emailing/calling about a puppy. We do not accept personal checks at all.
Click here
to see what is given with each puppy. The price includes shots, worming, and heartworm preventative as well as a three year genetic guarantee and a general health guarantee.
There is one black & white woolly female puppy available. She has 2 blue eyes and is SPAYED. $650.

We are also looking for a home for Renfri. Please email us for details: jkoolfamily@gmail.com

****Renfri's parents, and Alec are OFA certified/tested for hips and elbows. Renfri's parents and Alec's parents are also OFA certified/tested for eyes as well. This means that there is less of a chance of hip and elbow dysplasia and eye disease in their puppies.****
There is one black & white SPAYED woolly female puppy available. She is
ready to go now!
"Renfri"
$350
AVAILABLE
Wooly Siberian Husky/Malamute Female
DOB: October 2019
She will be spayed before leaving us and is already microchipped.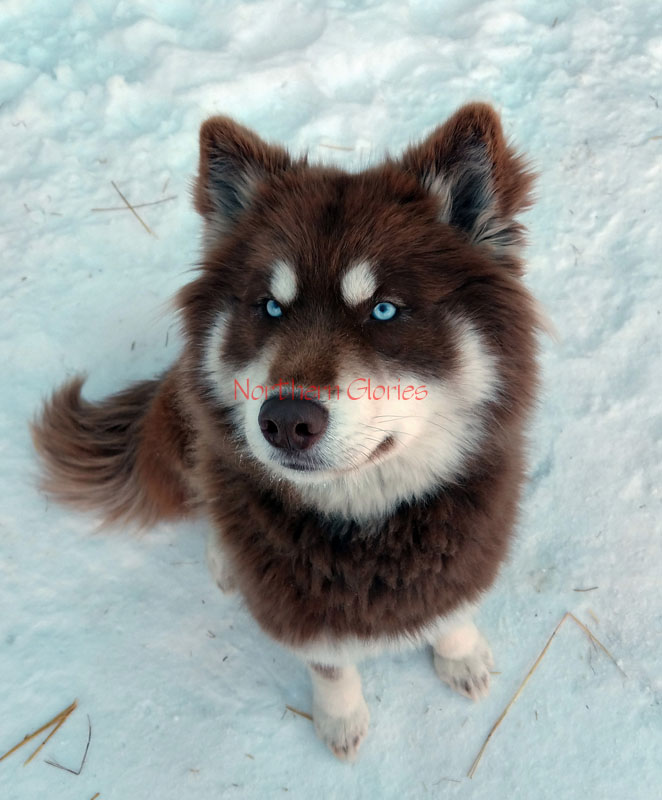 For more information & more photos, click on a photo.
Upcoming Litters:
Furture Litters:


W
e expect to have 2-3 litters of Siberian/Malamute puppies in 2023, but "no" purebred Siberian Husky puppies. After these litters, we can't say when or how often we will have Siberian/Malamute puppies as we made the decision back in 2019 to get out of breeding on a large scale like we do: Some of us here would like to follow different paths and passions. We only have a couple of Siberian/Malamute females who are not retired. ALL of our AKC purebred Siberian Husky females are retired now, so, we will "not" have any more AKC purebred Siberian Husky litters.
Adults at the top with current younger puppy litters toward the bottom: